How to Create perfect kid's playroom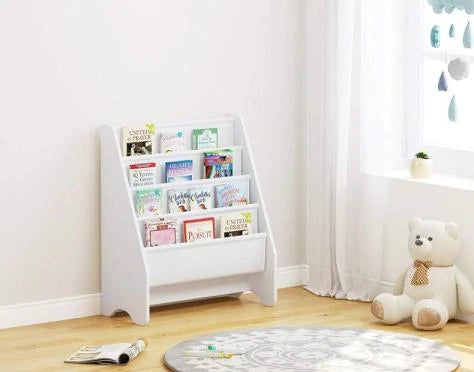 How to turn an ordinary room into an ins-style game room is very simple. You only need to master a few skills. Once successful, it will greatly save your time and money costs, once and for all.
When you start to build your children's room, do you have this kind of imagination?"I want to put a small bed here, maybe toys and table will nice," wait....these are not concrete enough, we need to be clear When I want this furniture or decoration, what kind of effect do I need them to achieve for me. Otherwise, you need to clean up the children's battlefield often after a while.
If you don't know how to choose, please keep in mind a few points, functionality, aesthetics, and practicality. Let's take a look at how to choose the kids furniture or decoration you want based on examples.
Use a bookcase with rails instead of a ordinary bookcase
Having both function and style in kids' rooms is possible – even on the bookshelf they use and rearrange every day. Overcrowded bookshelves are not only unattractive in appearance but also not convenient enough to pick and place. It is a difficult task for young children. If it is not handled well, parents will often end up doing it for them.
Choose a organizer with multiple storage areas
Using storage with multiple areas, children's toys are diverse. It is unrealistic to use only one large drawer to solve all the toys. An overcrowded space will also cause the toys to be crushed and damaged. The following explanations are based on different sizes
For example, this product in the picture realizes multi-functional storage. It can store toys of different shapes and materials, and even books. The design of the top can put plants to cultivate children's sense of responsibility from an early age. And kids will enjoy the responsibility of watering their own plant everyday, and they can really brighten up the play room.
Products like this will not become tasteless, you can choose according to different size needs.Choosing these storages can keep your game room clean and tidy
Or this kind of dust proof effect is super suitable for storing stuffed toys
Choosing these storages can keep your play room clean and tidy
You may have noticed some elements here. Try to choose simpler colors for the storage used by these children to integrate your original decorations. It is especially important to keep the style consistent.
Finding high-quality, cute, child-sized shelves that match the finish and color of your child's room or playroom can be difficult. But we bet you can find the perfect one with spirich. We have storage suitable for children, with white, natural wood and dark wood finishes. We also offer a variety of sizes and styles. Browse all our bookcases and shelves to find the most suitable style and style it your way!